COMPLEX WASTE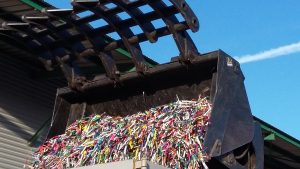 Complex waste is waste that, because of the heterogeneity of its composition, is difficult to recycle and, therefore, is often buried or incinerated.
They may in some cases be the result of a manufacturing error.
Thanks to our expertise, we are able, by automatic and/or mechanical processes, to separate the different materials in this waste and enhance them by favouring them as much as possible for recycling.
Examples of Complex waste :
Shotgun cartridges
Pens
Coffee pods
Electricity meters
Power sockets