Businesses
Environnement Massif Central, providing solutions for your company
Since 1997…
Since 1997, we have supported professionals in analysing their deposits and their needs. We offer collection and treatment solutions adapted to each type of waste and your restrictions.
The desire to limit waste dumped on landfills, by focusing on material recovery and energy recovery, has pushed us to develop our sorting and processing techniques as well as our procedures in order to meet the expectations of our customers to the best of our ability.
Solutions for every type of business
We offer solutions to waste disposal to many different types of companies: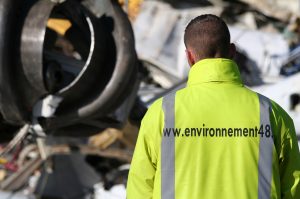 Manufacturing
Large retailers
Traders
Craftspeople
Building trades
Automotive trade
Food service industry
Health professionals
…
For example, we offer solutions for building site waste in our professional waste disposal facility, even the implementation of international logistics solutions and the processing of complex materials or waste to be recycled.
Customised solutions to answer your queries
Do you have a specific waste that is difficult to collect? Do you need to recycle waste or damaged materials?
Our facilities, our equipment, our experience and our engineering department allow us to review, design and test solutions which will make the best use of your waste and materials.